Slide
Unlocking Efficiency and Precision: The Power of 3D Laser Scanning in Building Measurement
In the realm of building measurement and surveying, precision and accuracy are paramount. Traditional measurement methods can be time-consuming, prone to errors, and lack the level of detail required for complex projects. However, with the advent of 3D laser scanning technology, the game has changed. 
At JCL Measure, we harness the power of 3D laser scanning to revolutionize the way buildings are measured, bringing unparalleled efficiency and precision to the industry.
So, what exactly is 3D laser scanning?  
Imagine a device that can capture millions of data points in mere seconds, creating a highly accurate digital representation of the environment. That's precisely what 3D laser scanning does. By emitting laser beams and measuring their reflections, this advanced technology captures precise measurements and creates a detailed point cloud, which can be converted into a 3D model of the building.
One of the key advantages of 3D laser scanning is its ability to capture intricate details that would be challenging to measure using traditional methods. From intricate architectural features to complex mechanical systems, the scanner leaves no stone unturned, delivering a level of detail that is unmatched. This level of precision allows architects, engineers, and construction professionals to make informed decisions based on accurate data, minimizing errors, and reducing rework.
Efficiency of 3D laser scanning: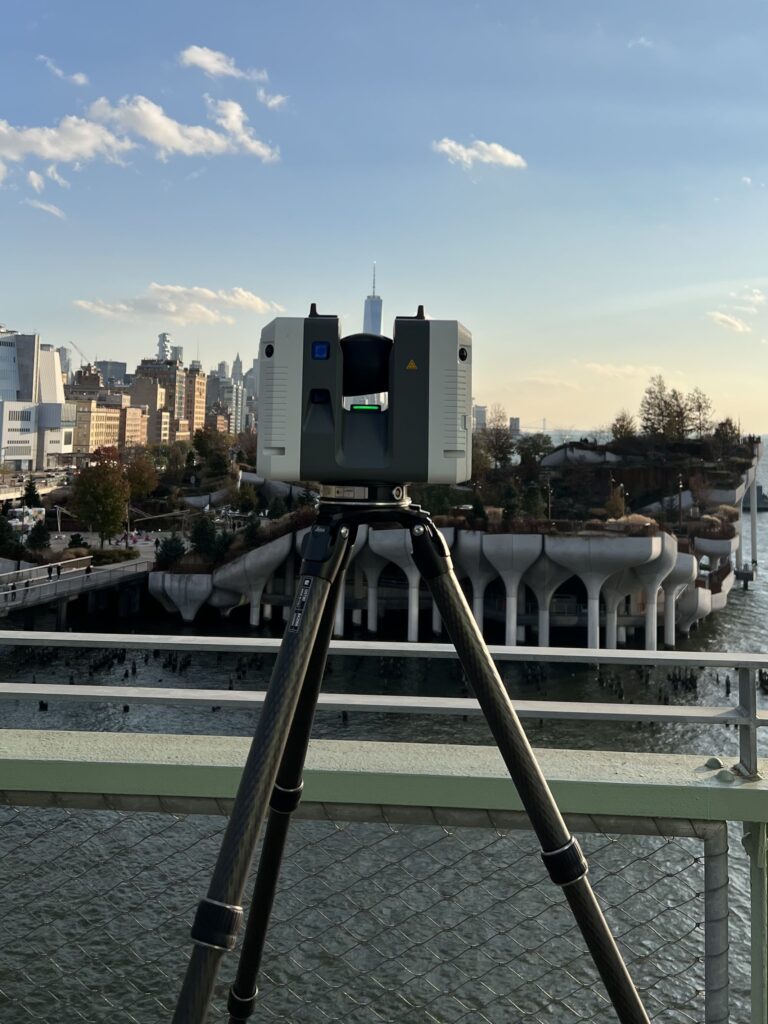 The efficiency of 3D laser scanning is another game-changer. With traditional measurement techniques, teams would spend countless hours manually measuring and documenting every dimension. This process is not only time-consuming but also increases the likelihood of errors. 3D laser scanning, on the other hand, significantly reduces the time and effort required for measurement. In a fraction of the time, a scanner can capture an entire building, providing a comprehensive dataset that can be easily accessed and analyzed. This accelerated workflow not only saves time but also enables projects to progress at a faster pace, keeping stakeholders satisfied and timelines on track.
Furthermore, the benefits of 3D laser scanning extend beyond initial measurements. The digital point cloud and resulting 3D model serve as a valuable resource throughout the project lifecycle. Architects can use the model to explore design options and assess their feasibility, while construction teams can leverage it for clash detection and coordination. The as-built documentation provided by laser scanning ensures accurate records for future reference, maintenance, and renovations.
 3D laser scanning technology offers unmatched precision in building measurement. By capturing millions of data points with high accuracy, it provides an incredibly detailed representation of the environment. This level of precision enables architects, engineers, and construction professionals to make informed decisions based on accurate measurements, minimizing errors and ensuring precise construction and design outcomes. From intricate architectural details to complex mechanical systems, 3D laser scanning captures even the smallest nuances, resulting in a comprehensive and accurate dataset.
2. Time and Cost Savings:
Compared to traditional measurement methods, 3D laser scanning significantly reduces both time and costs associated with building measurement. Traditional methods involve manual measurement, which can be time-consuming and prone to errors. With laser scanning, an entire building can be scanned in a fraction of the time, capturing a vast amount of data points quickly and accurately. This accelerated workflow allows projects to progress at a faster pace, saving time and reducing labor costs. Additionally, the accuracy of laser scanning minimizes the need for rework, further reducing costs associated with errors or discrepancies.
3. Streamlined Workflows and Collaboration:

3D laser scanning streamlines workflows and facilitates collaboration among various stakeholders involved in building projects. The detailed point cloud and resulting 3D model serve as a common reference point for architects, engineers, construction teams, and other professionals. This digital representation allows for better coordination, clash detection, and design exploration. By enabling efficient collaboration, laser scanning helps teams overcome communication barriers, reduces conflicts, and ensures smooth project execution.
4. Accurate As-Built Documentation:

Laser scanning provides highly accurate as-built documentation, which is crucial for renovation, maintenance, and future reference. The precise measurements captured during scanning serve as a reliable record of the building's existing conditions. This documentation becomes invaluable during renovations or modifications, ensuring that new elements fit seamlessly within the existing structure. Additionally, accurate as-built documentation enables facility managers to effectively plan and manage maintenance tasks, minimizing downtime and maximizing operational efficiency.
Building measurement often involves working at heights or in potentially hazardous environments. 3D laser scanning eliminates or reduces the need for personnel to physically access risky areas, improving overall safety. Scanners can be operated remotely, capturing data from a safe location. This not only enhances safety for the measurement team but also minimizes disruption to ongoing operations within the building. The non-intrusive nature of laser scanning ensures that the building occupants and workers are not exposed to unnecessary risks, making it a preferred method for measuring complex or hazardous structures.
At JCL Measure, we specialize in providing comprehensive building measurement and laser scanning services. Our team of experienced professionals utilizes state-of-the-art laser scanning technology to capture accurate data and deliver high-quality 3D models. Whether it's for architectural design, construction documentation, or facility management, our precise and efficient scanning services empower our clients to make informed decisions and streamline their projects.
When it comes to building measurement, 3D laser scanning has proven to be a game-changer. Its ability to capture intricate details, accelerate workflows, and provide accurate data sets the stage for efficient and precise decision-making. At JCL Measure, we are proud to leverage the power of 3D laser scanning to unlock new possibilities in the field of building measurement. Contact us today to learn more about how our services can benefit your next project.
Need immediate attention?
We love our customers, so feel free to call us to discuss your project!
515 Madison Ave, Suite 8074, New York, NY 10022
| | | |
| --- | --- | --- |
| Mon | 08:00 am – 06:00 pm | |
| Tue | 08:00 am – 06:00 pm | |
| Wed | 08:00 am – 06:00 pm | |
| Thu | 08:00 am – 06:00 pm | |
| Fri | 08:00 am – 06:00 pm | |
| Sat | Closed | |
| Sun | Closed | |